India is renowned for its rich cultural heritage, diverse traditions, and exquisite craftsmanship. When it comes to gift-giving, India offers a wide range of premium quality products that make for perfect presents for any occasion. From handcrafted artifacts to intricate textiles, here are some exceptional gift products from India that are sure to leave a lasting impression.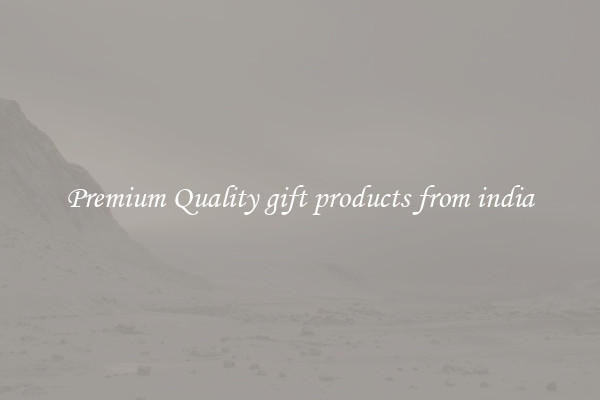 One of India's most sought-after gift items is its handcrafted artifacts. Skilled artisans all across the country create stunning pieces using traditional techniques passed down through generations. These artifacts, made from materials like wood, metal, and stone, showcase intricate designs and meticulous attention to detail. Whether it is a finely carved wooden statue, a brass showpiece, or a marble figurine, these artifacts make for remarkable pieces that can enhance any space they adorn.
Textiles are another specialty of India that are perfect for gifting. The country boasts a variety of unique textiles, each reflecting the skill and tradition of its respective region. From intricate silk sarees of Benaras to the vibrant Bandhani prints of Rajasthan, there is a wide range of textiles to choose from. These high-quality fabrics are not only known for their exquisite designs but also for their durability and comfort. Whether it is a beautiful handloom scarf, a traditional saree, or an embroidered shawl, Indian textiles never fail to impress.
India is also famous for its jewelry, which is renowned worldwide for its craftsmanship and intricate designs. From the stunning Kundan and Meenakari jewelry of Rajasthan to the exquisite Temple jewelry of South India, Indian jewelry is known for its attention to detail and premium quality. Whether it is a statement necklace, a pair of intricately designed earrings, or an elegant bracelet, Indian jewelry adds a touch of glamour to any outfit and makes for a precious gift that will be cherished for years to come.
Besides artifacts, textiles, and jewelry, India is also known for its natural beauty and wellness products. Ayurvedic products, made from natural ingredients, have gained immense popularity around the world. From herbal soaps and essential oils to organic skincare and hair care products, India offers a plethora of wellness items that promote health and well-being.
In conclusion, India offers a wide range of premium quality gift products that are a true reflection of its rich heritage and cultural diversity. Whether it is handcrafted artifacts, intricate textiles, exquisite jewelry, or natural beauty products, these gifts are not just items, but tokens of love and appreciation. By opting for these Indian gift products, you not only acquire a remarkable piece but also support the skilled artisans and craftsmen who have dedicated their lives to preserving India's cultural legacy. So, next time you are searching for the perfect gift, consider these premium quality products from India and witness the joy and gratitude it brings to your loved ones.