When it comes to choosing an engagement ring, it's important to find one that is not only well-designed but also user-friendly. After all, this ring will be worn every day for the rest of your life, so it needs to be comfortable and easy to wear. Fortunately, there are plenty of options out there that meet these criteria.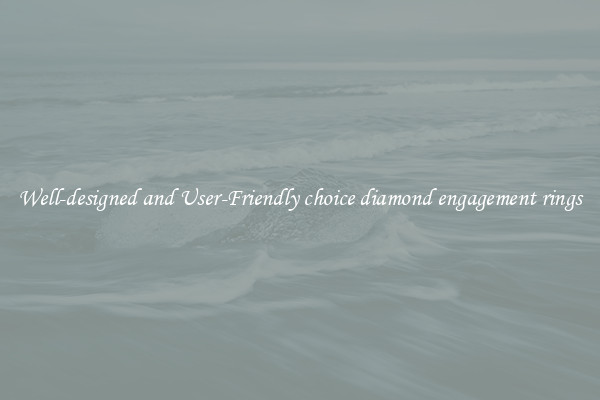 One key aspect of a well-designed engagement ring is the setting. The setting refers to how the diamond is secured to the band of the ring. A prong setting, for example, uses metal prongs to hold the diamond in place. This type of setting allows for maximum light exposure, resulting in a brilliant and dazzling diamond. Another popular setting is the bezel setting, which uses a thin metal strip to surround and hold the diamond. This type of setting is not only sleek and modern but also provides better protection for the diamond.
In addition to the setting, the overall design of the ring should also be considered. Some people prefer a classic and timeless design, such as a solitaire ring with a single diamond centerpiece. Others may opt for a more intricate and detailed design, such as a halo ring with smaller diamonds surrounding the main diamond. It all comes down to personal preference and style. The important thing is to choose a design that you love and feel comfortable wearing every day.
User-friendliness is another crucial factor to consider when selecting an engagement ring. A ring that is not user-friendly may not fit properly or be difficult to put on and take off. This can be extremely frustrating, especially for someone who wears their ring constantly. To ensure a comfortable fit, it's important to have your finger professionally measured before purchasing the ring. This will ensure that the ring is the right size and will fit perfectly on your finger.
Furthermore, consider the practicality of the ring. If you lead an active lifestyle, you may want to choose a ring with a lower profile or a bezel setting that offers better protection for the diamond. Additionally, consider the durability of the ring. Some metals, like platinum, are more resistant to scratching and wear, making them ideal for everyday wear.
In conclusion, a well-designed and user-friendly engagement ring is essential for a lifetime of comfort and enjoyment. Take the time to consider the setting, design, and practicality of the ring to ensure that it meets your needs and preferences. Remember, this ring is a symbol of your love and commitment, and it should bring joy and happiness every time you wear it.